MyDrive | Volvo Polestar Racing – V8Supercars
First Image | Jarrod Moore
Round five of the 2014 V8 Supercars Championship saw Scott McLaughlin chalk up Volvo's first points scoring victory in the championship since 1986, after putting the Volvo S60 V8 Supercar on pole for the first race of the weekend.
"It was a proud moment for me to take Volvo's first V8 race win in 28 years, the car was fantastic in the first race and big thanks to everyone in the team," said McLaughlin.
The 20-year-old Kiwi finished fourth in the second race, securing further important championship points, while the third and final race proved to be tough with 17th his final placing.
"The third and final race was a bit unfortunate," he said. "I had a pretty good qualifying session again with third, the car was awesome and I have managed to keep my qualifying average to 3.9. Then I just struggled during the race with tyre wear and I got a few hits as well. But it has been an awesome race weekend overall, bring on the next race!"
Team-mate Robert Dahlgren had a tough race weekend, too, with 21st best race result, but a strong eighth in qualifying for the final race, just three tenths of a second off pole position.
"I got my best qualifying result so far with eighth and I got a really good start in the race," said Dahlgren. "But then I felt the tyres start to go off, unfortunately I think we were too hard on the tyres.
"I got pushed wide a couple of times and got a lot of marbles on the tyres. After that the tyres didn't work properly until the pitstop. All in all, I take the qualifying result with me and move on to the next race."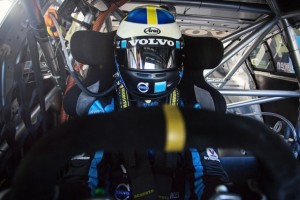 McLaughlin has strengthened his position in the drivers' championship following the Perth 400, reducing the gap to Shane Van Gisbergen in sixth position from 126 points to just 21 points.
"Scott's strong effort in the first race was great to see, with him fighting his way to our first official V8 Supercars victory," said Christian Dahl, owner of Polestar.
"Robert has shown improvement this weekend as well with a strong eighth in qualifying. There is still a lot of work to be done of course, as could be seen in the final race. But it is still early days in our program and to be where we are now in the championship is over our expectations."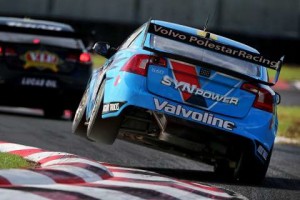 The V8 Supercars continues in four weeks' time with the Skycity Triple Crown at Hidden Valley Raceway, Darwin, on June 20-22.
Results Race 1 – Top 5
1 Scott McLaughlin Volvo S60 42 laps
2 Fabian Coulthard Holden Commodore +0.7538
3 Chaz Mostert Ford Falcon +1.3366
4 Mark Winterbottom Ford Falcon +3.8229
5 Lee Holdsworth Mercedes E63 AMG +6.2923
…
24 Robert Dahlgren Volvo S60 +33.8381
Results Race 2 – Top 5
1 Craig Lowndes Holden Commodore 42 laps
2 Mark Winterbottom Ford Falcon +1.8581
3 Jamie Whincup Holden Commodore +8.6221
4 Scott McLaughlin Volvo S60 +13.2536
5 Fabian Coulthard Holden Commodore +13.6003
…
24 Robert Dahlgren Volvo S60 +37.7457
Results Race 3 – Top 5
1 Chaz Mostert Ford Falcon 83 laps
2 Craig Lowndes Holden Commodore +2.1744
3 Mark Winterbottom Ford Falcon +4.2798
4 Jamie Whincup Holden Commodore +11.0268
5 Fabian Coulthard Holden Commodore +15.6605
…
17 Scott McLaughlin Volvo S60 +50.4778
21 Robert Dahlgren Volvo S60 +1 lap
Qualifying for Race 1 – Top 5
1 Scott McLaughlin Volvo S60 0:55.3635
2 Craig Lowndes Holden Commodore +0.0133
3 Russell Ingall Holden Commodore +0.1101
4 Fabian Coulthard Holden Commodore +0.1115
5 Lee Holdsworth Mercedes E63 AMG +0.1229
…
22 Robert Dahlgren Volvo S60 +0.7968
Qualifying for Race 2 – Top 5
1 Craig Lowndes Holden Commodore 0:55.2979
2 Scott McLaughlin Volvo S60 +0.0864
3 Russell Ingall Holden Commodore +0.1029
4 Jamie Whincup Holden Commodore +0.1220
5 Mark Winterbottom Ford Falcon +0.2318
…
13 Robert Dahlgren Volvo S60 +0.4292
Qualifying for Race 3 – Top 5
1 Craig Lowndes Holden Commodore 0:55.2266
2 Mark Winterbottom Ford Falcon +0.0208
3 Scott McLaughlin Volvo S60 +0.1518
4 Chaz Mostert Ford Falcon +0.1641
5 James Courtney Holden Commodore +0.1948
…
8 Robert Dahlgren Volvo S60 +0.2509
Perth 400 – V8 Supercars
Circuit: Barbagallo Raceway
Length: 2.4km
Lap record (V8SC): 0:55.9440, Jason Bright, 2004
Championship standings – Top 10 (16/38 races)
1 Mark Winterbottom Ford Falcon 1199 points
2 Craig Lowndes Holden Commodore 1098 (-101)
3 Fabian Coulthard Holden Commodore 1059 (-140)
4 Jamie Whincup Holden Commodore 986 (-213)
5 James Courtney Holden Commodore 928 (-271)
6 Shane Van Gisbergen Holden Commodore 861 (-338)
7 Scott McLaughlin Volvo S60 840 (-359)
8 Chaz Mostert Ford Falcon 792 (-407)
9 David Reynolds Ford Falcon 757 (-442)
10 Jason Bright Holden Commodore 754 (-445)
…
25 Robert Dahlgren Volvo S60 311 (-888)