MyDrive | Red Bull Racing F1 Team – Speaking of dull … Verstappen's race was spent looking at the back of Raikkonen's Ferrari for 55 laps, after the Dutchman's early advances against the Ferrari veteran came to nought.
He ran just behind Raikkonen for lap after lap, but never really came close enough to get past, the extra speed of the Ferrari down the two long straights cancelling out whatever Verstappen could do in the twisty final sector of the lap.
Daniel Ricciardo: qualified 4th, did not finish. Max Verstappen: qualified 6th, finished 5th.
At the end, Verstappen was 46 seconds behind Bottas, and a whopping 40 seconds ahead of sixth-placed Hulkenberg. At least he saw the finish; for the third time in four races since Verstappen signed a contract extension with the team, Ricciardo was forced out early, this time a hydraulics failure halting his progress on lap 21.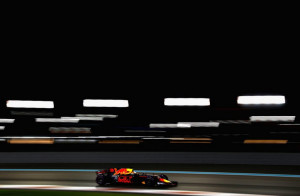 After reversing his form against Verstappen to out-qualify his teammate with a brilliant lap on Saturday, it was a bitter blow – worse still, he relinquished fourth place in the drivers' championship to Raikkonen. You sense the Australian may be ready for the off-season more than most.
Feedback and Links
Feedback or questions on this article, please use the comment field, or click for contact details.
For details on Formula 1, click > www.formula1.com
Connect with MyDrive
The MyDrive social media network now includes, Facebook, Twitter, Instagram, YouTube, Google+, LinkedIn and RSS Feed. The MyDrive social media sites can be accessed by clicking the relevant social media icons situated below and on the right-hand side menu bar on any page throughout the MyDrive Media website.