My Drive | The Subaru Impreza 2.0i-L CVT – Written by Adam Tonkin

Road Trip | Melbourne to Portsea via Arthurs Seat and Sunny Ridge Strawberry Farm.
(241KM – 150MI) in the new Subaru Impreza 2.0 CVT.
The new Impreza is a great step forward for Subaru in the small car department although; the Impreza Sedan has grown to a similar size and shape of the Subaru Liberty from some years ago. The look and feel on the inside would have you thinking that you were driving an XV or vice versa. The driving characteristics are quite similar too although the Impreza is a lot lower to the ground. The rain fell during our entire road trip but the Impreza handled the uber wet conditions easily even through the tight twisty corners of Arthurs Seat and Red Hill.
The Impreza doesn't draw to many onlookers but it does go about its business without fuss. It is great to see Subaru step up the technology ladder by offering a few extra gizmo's such as iPod connectivity and Stop/Start Technology which I found to be a bit unnerving at first sitting at the traffic lights in total silence but I've have been won over by its sensibility and fuel saving capabilities. The Impreza is no rocket ship in a straight line but if you are looking for a comfortable A to B car, the Impreza may just be worth you taking a look. Keep an eye out for our full review in the upcoming Series of My Drive. Thanks to Subaru Australia for the Impreza.
Click on any of the below Impreza pictures to see the entire Subaru Impreza 2.0i-L CVT Road Trip Album on our Facebook Page.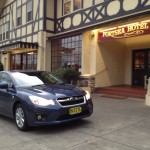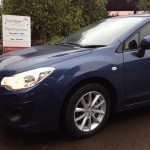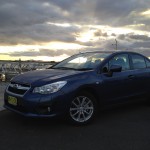 Get in touch via social media!
Stay up to date with our MyDrive Twitter, Facebook You Tube and RSS Feed social media network.
Select the Social Network you would like to visit by clicking the below icon.