MyDrive | Red Bull Racing F1 Team – On any other day, Verstappen's drive to his second race win of the year and third for his career would have hogged 95 per cent of the headlines, but Hamilton's fourth world title took some of the spotlight away from the young Dutchman.
It arguably shouldn't have, as Verstappen was in a class of his own from Saturday onwards in Mexico, even when Vettel edged him by 0.086secs to steal pole position.
The long run to the first corner at the Autodromo Hermanos Rodriguez always shaped as a chance for Verstappen to muscle past Vettel, and the pair briefly touched before Verstappen entered Turn 3 ahead, and that was that.
Despite being told several times by his team that he didn't need to push as hard as he was, Verstappen set fastest laps for fun in the early stages, and such was his dominance that he finished 54 seconds clear of Raikkonen's third-placed Ferrari.
For the ease of his victory, Verstappen admitted to some nerves when he saw one Renault-powered car after another out of the race with reliability problems, his mind undoubtedly drifting back to earlier in the year when he retired from multiple races through no fault of his own.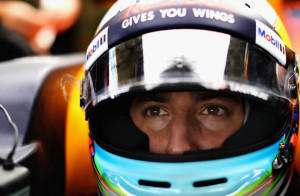 "I had my bad luck at the beginning of the year so I am very happy that this time nothing happened to me," he said. Speaking of luck, teammate Ricciardo's ran out after he encouragingly topped the timesheets after Friday practice, giving a glimpse of the Red Bull pace Verstappen would show from then on.
The Australian's qualifying was a disaster, admitting he was "confused, annoyed, helpless" after finding no grip and starting seventh, and the team elected to take a 20-place grid penalty for a new engine on race day to give him a fighting chance of a good result.
Ricciardo roared through to seventh from 16th on the grid in just six laps, but meekly returned to the pits with a turbo problem, retiring from a strong position for the second time in a week after his DNF in Austin. It was the first time Ricciardo has retired from consecutive races since his days at Toro Rosso in 2013. "The weekend turned to crap," he lamented.
Feedback and Links
Feedback or questions on this article, please use the comment field, or click for contact details.
For details on Formula 1, click > www.formula1.com
Connect with MyDrive
The MyDrive social media network now includes, Facebook, Twitter, Instagram, YouTube, Google+, LinkedIn and RSS Feed. The MyDrive social media sites can be accessed by clicking the relevant social media icons situated below and on the right-hand side menu bar on any page throughout the MyDrive Media website.