MyDrive | Porsche Cars Australia – In agreement with the German Federal Motor Transport Authority, Kraftfahrtbundesamt (KBA), Porsche AG will recall around 21,500 Cayenne model 3.0-litre V6 Diesel vehicles in Europe to update the software in the engine control unit.
In Australia, a total of about 2,100 Cayenne model 3.0-litre V6 Diesel vehicles built from August 22 2014 to July 27 2017 are affected. Some further 165 or so vehicles pending delivery to Australian customers are also affected, and delivery of these vehicles will therefore be delayed.
Subject to approval of the proposed technical software update by the relevant authorities, the recall is expected to commence in Europe in the European autumn 2017, with an Australian voluntary recall to follow as soon as possible thereafter.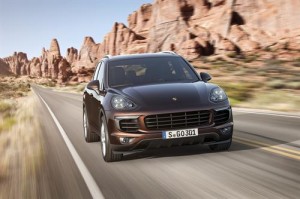 PCA will take a responsible approach towards its customers. It is of great importance to PCA that customer expectations regarding quality, integrity and service are met to the fullest extent.
All affected vehicles remain safe to drive and may continue to be driven as normal. When the proposed technical software update is available, all owners of affected vehicles will be contacted by their official Porsche Centre to arrange the free software update, which should take around one hour.
PCA will work constructively with the Department of Infrastructure and Regional Development and all other relevant parties to implement the voluntary software update.
Feedback and Links
Feedback or questions on this article, please use the comment field, or click for contact details.
For details on Porsche, click > www.porsche.com
Connect with MyDrive
The MyDrive social media network now includes, Facebook, Twitter, Instagram, YouTube, Google+, LinkedIn and RSS Feed. The MyDrive social media sites can be accessed by clicking the relevant social media icons situated below and on the right-hand side menu bar on any page throughout the MyDrive Media website.