MyDrive | Written by Adam Tonkin | Subaru Australia – This week at Subaru Melbourne during the filming of Episode 6 of MyDrive, we were lucky enough to get a close up and personal view of the brand new Subaru BRZ.  As most would know, the BRZ only arrived fresh off the boat from Japan late last month.
With most of the Australian allocation now sold, it could be quite obvious to Subaru Australia along with their partner Toyota, that they will need a larger allocation of BRZ's for the Australian market next time around.  These photos certainly aren't the best although they highlight the BRZ's best assets, the interior and the exterior.
We will be getting behind the wheel of the BRZ for a test shortly but till then these pictures will have to do.  The future for Subaru and especially for Subaru Australia is looking very bright.  Enjoy the pictures
For more details on the Subaru BRZ, please see the Subaru Australia Website > www.subaru.com.au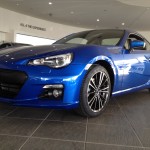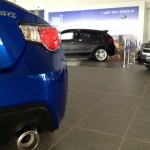 Get in touch via social media!
Stay up to date with our MyDrive Twitter, Facebook You Tube and RSS Feed social media network.
Select the Social Network you would like to visit by clicking the below icon.