MyDrive | McLaren Honda F1 Team – Watching Alonso manhandle his McLaren into positions it has no realistic business being in – onto the fourth row of the grid in qualifying and competing for decent points in the race – has become a Sunday staple, and the Spaniard's Saturday lap in Q3 was raw aggression and sublime skill at its finest.
Fernando Alonso: qualified 7th, finished 8th. Stoffel Vandoorne: qualified 13th, did not finish.
The lack of long straights at Interlagos didn't punish McLaren's cruel lack of straight-line speed, and the car looked mighty in the twisty middle sector, where the driver can make a sweet-handling chassis sing.
Four points for eighth was Alonso's second-best result of the year, which was encouraging on one hand, but a reminder of his past glories on another; the two-time world champion has been on the Brazil podium eight times without ever seeing the view from its top step.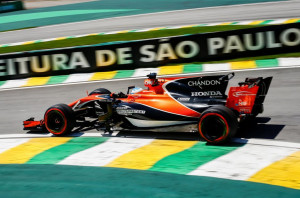 On the other side of the garage, Vandoorne's race was over almost before it started, the Belgian squeezed into contact with Ricciardo's Red Bull by Magnussen and making the long journey back to the pits on foot.
Feedback and Links
Feedback or questions on this article, please use the comment field, or click for contact details.
For details on Formula 1, click > www.formula1.com
Connect with MyDrive
The MyDrive social media network now includes, Facebook, Twitter, Instagram, YouTube, Google+, LinkedIn and RSS Feed. The MyDrive social media sites can be accessed by clicking the relevant social media icons situated below and on the right-hand side menu bar on any page throughout the MyDrive Media website.