MyDrive | BARCELONA, Spain – The Formula One season starts its European leg with the first European race of the year at the Circuit de Catalunya in Barcelona, which hosted two sessions of pre-season testing in February and March. After taking two wins in the first four races of the 2013 season, Sebastian Vettel is looking to be the one to catch again, whilst teammate Mark Webber will look to start his European campaign strongly to build upon his fifth position in the championship.
Although the drivers and mechanics are extremely familiar with the track given it's the sport's habitual testing venue, it remains one of the most challenging from a technical standpoint. With several good overtaking opportunities and such fierce competition throughout the field in 2013this Spanish Grand Prix should prove to be action-packed. Once again tire strategy will surely be crucial given the combination of the abrasive asphalt and high ambient temperatures.
In 2011 Infiniti's Director of Performance Vettel beat Lewis Hamilton to take the win by just over half a second, with Webber coming in fourth, and last year the duo finished sixth and 11th respectively. Marking the onset of a lengthy European season, consistency is important in ensuring momentum over the next few months.
With seven different winners of the Spanish GP in the last seven seasons, we should see some close-fought battles adding to what is already proving to be an exciting and unpredictable campaign.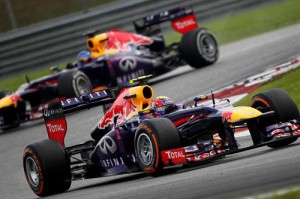 Sebastian Vettel
Q1: What's your best memory of competing at the Spanish GP?
Vettel: The win in 2011 was very special. It was a long race and for the last 20 or 30 laps I had a lot of pressure from behind from Lewis. I had no KERS to defend, so it was good to come out on top at the end.
Q2: How's it racing back in Europe?
Vettel: Yes it's good to be back in Europe, and in Spain in particular. The atmosphere is always very special at the European races and the weather is usually good too. It helps that the travelling time to and from events is shorter and there's no need to adapt to a time difference.
Mark Webber
Q1: What's your best memory of competing at the Spanish GP?
Webber: My win in 2010. I qualified on pole, and it was a race which I controlled from the front. I pulled a gap from Sebastian, then Lewis was behind me and put a little bit of pressure on me in the middle of the race, but he had a mechanical failure towards the end. It's rewarding because we do so much testing there, so it's good to go there and get a nice result. It's always a brilliant atmosphere in Spain. After the 2010 race I threw my race helmet into the crowd as a present for the fans.
Q2: How's it racing back in Europe?
Webber: It's a little bit easier; obviously the travel is very convenient and everything is within a striking distance of two hours. We all know the hotels well and the drill of how to get around. It's much more straightforward than some of the new venues. It's a nice time to be racing in Europe with the weather generally and it's a good atmosphere.

For further information on Infinti, click > www.infiniti.com
For further information on Red Bull Racing, click > www.redbullracing.com
For further information on Formula 1, click > www.formula1.com
Get in touch with MyDrive via social media!
Stay in touch with MyDrive via our Twitter, Facebook You Tube and RSS Feed social media network.
We've also joined Google + so if you have an account, make sure you add us to your circle!
Select the Social Network you would like to visit by clicking the below icon.