MyDrive | Lexus has announced that the planned 500-unit production run of the two-seater LFA super car has been completed.
The Lexus LFA, produced at a rate of 20 per month, went into production at the LFA Works in December 2010.
In January 2012, the LFA Works also began production of the LFA Nürburgring Package, a circuit racing-oriented grade.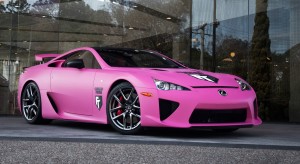 The 500th and final Lexus LFA was completed on December 14 and will undergo quality inspection and road testing before being delivered to its owner.
Future Lexus vehicles will reflect the technological skills gained during the development and production of the LFA – particularly the manufacturing know-how for carbon fibre-reinforced plastic parts – as well as the car design philosophy for exhilarating and stimulating driving performance.
Get in touch via social media!
Stay in touch with MyDrive with our Twitter, Facebook You Tube and RSS Feed social media network.
Select the Social Network you would like to visit by clicking the below icon.