MyDrive | IRVINE, Calif., Technology is an integral part of everyday life and advancing faster than ever.  And when one unsuspecting auto enthusiast gets a little too touchy-feely with the all-new 2014 Kia Forte compact sedan in Kia Motors America's (KMA) latest Super Bowl ad, a futuristic robot played by former Miss USA Alyssa Campanella springs into action to help him learn an important lesson:  Always respect the tech.  "Hotbots" is scheduled to air during the third quarter of Super Bowl XLVII on February 3 and introduces the technology-laden Forte, which will offer the next iteration of Kia's hands-free infotainment and telematics system, UVO eServices, when it goes on sale in the coming months.
"The Super Bowl's audience of more than 100 million people has served as the perfect platform for launching many of Kia's most memorable ad campaigns over the past three years, resulting in higher consumer awareness for our brand and record-setting sales," said Michael Sprague, executive vice president, marketing & communications, KMA.  "Everyone can relate to 'kicking the tires' at an auto show or in a showroom, and 'Hotbots' is sure to bring a smile to the faces of youthful car buyers seeking the technologies, connectivity and premium features found on the all-new 2014 Forte."
Created by David&Goliath, KMA's advertising agency of record, a special expanded version of "Hotbots" can be viewed now at YouTube.com/Kia.  As one of the fastest growing car companies in the U.S. over the last five years1, Kia returns as a Super Bowl advertiser for the fourth straight time, including the previously released "Space Babies" spot for the new 2014 Sorento CUV.  "Hotbots" is a fully integrated marketing campaign incorporating TV, digital, print, social media and in-dealership components.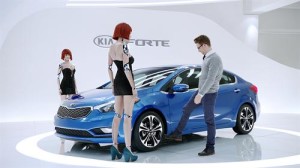 2014 Forte Compact Sedan

Available in LX and EX trims, the all-new Forte sedan is scheduled to arrive in retail showrooms in late-first quarter or early second quarter 2013 and will be followed later in the year by 5-door and Koup variants.  Sitting on an all-new chassis that is longer, wider and lower than its predecessor, the all-new Forte will offer more room, more fun-to-drive performance, new cutting edge technology, several premium amenities and a choice of an efficient 1.8-liter engine (LX) or a more powerful 2.0-liter engine (EX).  With an aggressive stance and broad shoulders, the all-new Forte's modern aesthetic was influenced by European sport sedan styling and penned at Kia's U.S. design studio in Irvine, Calif. Optional Flexsteer™ technology puts the driver firmly in control with a choice of three settings – Comfort, Normal and Sport – which vary steering feel and effort at the touch of a button.
For further information on KIA, click > www.kia.com
For further information on KIA Australia, click > www.kia.com.au
Get in touch via social media!
Stay in touch with MyDrive with our Twitter, Facebook You Tube and RSS Feed social media network.
Select the Social Network you would like to visit by clicking the below icon.