MyDrive | JEEP – Jeep Australia is thrilled to announce it has re-signed with AFL team Richmond Football Club's major sponsor for three more years.
This extension takes a sporting alliance which began in 2011 through to the end of 2020, making Jeep the Tigers' longest serving major sponsor in the club's proud 132-year history.
Jeep Australia President and CEO Steve Zanlunghi said the decision to extend the alliance was made easier by the synergies between the Tiger's footballing ethos and Jeep's brand values.
"We are proud to continue our strong partnership with the Richmond Football Club," said Mr Zanlunghi. "Richmond plays a passionate, tough, and exciting brand of football. These are qualities that Richmond share with the Jeep brand which makes this sponsorship such a perfect fit. We are very proud to be a part of Tiger army for the next three years".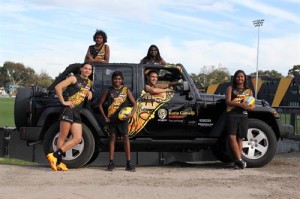 Richmond CEO Brendan Gale welcomed Jeep's further commitment to the Tigers, saying "we are thrilled to extend our partnership with Jeep beyond 2018, in what is a significant and record major partnership for the Richmond Football Club".
https://www.youtube.com/watch?v=qEgEAfPh2Pc
Jeep Resigns in 2013
"Both Richmond and Jeep have a rich history, and both Richmond and Jeep have bold aspirations for the future. We are excited to be tackling that future with our staunchest commercial ally at our side for three more exciting years."
To further strengthen the ongoing partnership, Jeep Australia will provide two Jeep vehicles to the Korin Gomadji Institute (KGI), Richmond Football Club's centre for Indigenous youth.
The KGI runs education and training programs for young Aboriginal and Torres Strait Islanders, an area of the community to which Jeep is honoured to lend its support.
Mr Gale thanked Jeep for providing two vehicles for the Korin Gomadji Institute to continue its positive work with the Indigenous community.
"Richmond is extremely proud of the Indigenous programs we run through the KGI, and Jeep has recognised this during our long journey together. The two Jeeps will be of direct benefit to the KGI and will help to extend its outstanding work with Aboriginal and Torres Strait Islander youth," Brendon Gale said.
Feedback and Links
Feedback or questions on this article, please use the comment field, or click for contact details.
Connect with MyDrive
The MyDrive social media network now includes, Facebook, Twitter, Instagram, YouTube, Google+, LinkedIn and RSS Feed. The MyDrive social media sites can be accessed by clicking the relevant social media icons situated below and on the right-hand side menu bar on any page throughout the MyDrive Media website.