MyDrive | Groupe Renault – The company announced today the signing of a joint venture agreement with the Industrial Development & Renovation Organization of Iran (IDRO) and PARTO NEGIN NASEH Co, an importer of Renault products in Iran.
The proposed joint venture company, of which Renault will be the majority shareholder, though with a first period of joint control with IDRO and PARTO NEGIN NASEH Co, will include an engineering and purchasing centre to support the development of local suppliers as well as a plant with an initial production capacity of 150,000 vehicles a year, supplementing Groupe Renault's existing capacity of 200,000 vehicles a year in the country. The first vehicles to be produced at the plant will be new Symbol and new Duster.
In addition to the vehicle plant announced in September 2016, an engine plant is also planned with a capacity of 150,000 units a year.
The manufacturing facilities will be in Saveh, located 120 km from Tehran. They will be owned and operated by the joint venture company.
The agreements also provide for the development of an exclusive Renault distribution network, in addition to the existing network of NEGIN Khodro.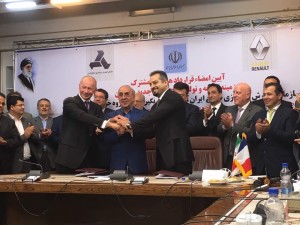 "We are happy to sign this agreement with IDRO and PARTO NEGIN NASEH Co. In a rapidly expanding Iranian market, it was vital to implement plants, engineering and purchasing centre. This joint venture will enable an acceleration of our growth in this country" said Thierry Bollore, Member of Groupe Renault Executive Committee and Chief Competitive Officer.
"The development of a commercial network specific to our brand will reinforce Groupe Renault's position in Iran. The signing of this new joint venture reinforces the strategic choices we have made in Iran and will open new perspectives in a 2 million vehicle market projected in 2020", said Stefan Mueller, Member of Groupe Renault Executive Committee and Chief Performance Officer.
"Our Group as the owner of the Negin Khodro Co., the existing establishment for Renault Network in Iran, is proud to be part of this industrial development. As a family-owned private business in the country, N.H. Group envisages this joint venture with Renault and IDRO, as another possibility of a long-lasting partnership with Groupe Renault for years to come", said Naser Haddadzadeh, Chairman of the NEGIN Holding.
Our joint-venture with  our historical partners SAIPA and Iran Khodro will continue to produce and deliver the current range: Tondar, Tondar pick-up, Sandero and Sandero Stepway, independently of the start of this new JV.
Feedback and Links
Feedback or questions on this article, please use the comment field, or click for contact details.
Connect with MyDrive
The MyDrive social media network now includes, Facebook, Twitter, Instagram, YouTube, Google+, LinkedIn and RSS Feed. The MyDrive social media sites can be accessed by clicking the relevant social media icons situated below and on the right-hand side menu bar on any page throughout the MyDrive Media website.