MyDrive | FCA – Born 60 years ago, in Turin, Italy, the Fiat brand launched production of the ever-iconic Fiat 500 'Cinquecento' model. Dubbed as the 'great little car', the vehicle stands for discovery through passionate self-expression. To help commemorate the milestone, Fiat Australia has introduced the Anniversario buzz model.
A symbol of Italian creativity, the Fiat 500 has become an icon of beauty and art. The Fiat 500 is not just a symbol of mass car ownership; over time, it has become the symbol of Italian creativity, style and a design icon that continues to remain 'Forever Young.'
"The Fiat 500 Anniversario Edition offers a glimpse into the iconic heritage of the Fiat brand and pays tribute to the vehicle which launched 60 years ago," said Fulvio Antonelli, Head of Fiat Brand Australia.
"The Anniversario is a modern Italian-made hatchback that represents a reworking of the vehicle's unmistakable design signature."
As a further tribute to the Fiat 500's heritage, 60 Anniversario Special-Edition models will be available for purchase at Fiat showrooms throughout Australia, beginning in October 2017. Pricing will be announced closer to the vehicle arriving in-market.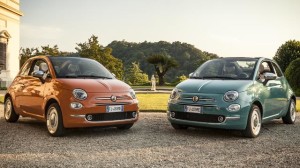 Based on the iconic Lounge 1.2 litre hatchback, the Anniversario's stylistic details are a modern reworking of its great forerunner's unmistakable design signature. The new special edition has a Sixties look that references some of the historic key features of the car, such as:
Two new, exclusive colours inspired by the liveries of the timeless icon; Riviera Green, Sicilia Orange
Chrome accents on the bonnet and mirror caps
Vintage Fiat logos
16-Inch vintage style alloy rims with an alternative diamond finish design which recalls the spokes of classic car wheels
The elegance of the car is sealed by the cursive "Anniversario" logo sported on the tailgate
Inside, every detail is designed to capture the carefree style and mood of the Sixties, but with an innovative touch. The new seats, in fabric with horizontal stripes in perfect Sixties style, piping and embroidered 500 logo, effectively evoke the Dolce Vita years.
The Fiat 500 has always had an inimitable look, and the Anniversario trim level is heir to this sophisticated vitality and verve, clearly expressed in the coloured dashboard insert. The trademark attention to details is clear in the "Anniversario" logo embroidered on the floor mats.
Feedback and Links
Feedback or questions on this article, please use the comment field, or click for contact details.
For details on FIAT, click > www.fiat.com
Connect with MyDrive
The MyDrive social media network now includes, Facebook, Twitter, Instagram, YouTube, Google+, LinkedIn and RSS Feed. The MyDrive social media sites can be accessed by clicking the relevant social media icons situated below and on the right-hand side menu bar on any page throughout the MyDrive Media website.