INDY CAR

| Brabham unveils new Indy 500 Challenger

Written by – Adam Tonkin
MyDrive | Team PIRTEK – Young Aussie hopeful Matthew Brabham earlier this week unveiled his new Indy 500 challenger that he hopes will take him to 'Victory Lane' in the upcoming Grand Prix of Indianapolis then onto the Indy 500.
Launched at Station 7 of the Indianapolis Fire Department, Brabham looked calm yet poised and excited with the new livery, "It looks fantastic, I think it is one of the best liveries out there" he stated.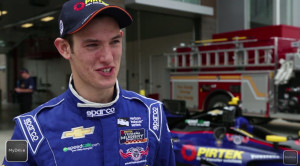 In conjunction with raising funds and awareness for the Chris Kyle Frog Foundation, the seven-member Pirtek Team Murray pit crew is working with renowned IndyCar trainer Jim Leo.
The grandson of the late great Sir Jack Brabham, Matthew will go into the races at Indy well prepared after a test at Sebring in Florida and a highly experienced race crew behind him.
The 100th Running of the Indianapolis 500 is scheduled for Sunday, May 29, 2016 and will feature drivers of the Verizon IndyCar Series.
Feedback and Links
Feedback or questions on this article, please use the comment field, or click for contact details.
For details on the Indy 500, click > www.indianapolismotorspeedway.com/events/indy500
Stay in touch with MyDrive via social media!
The MyDrive social media network now includes, Facebook, Twitter, Instagram, YouTube, Google+, LinkedIn and RSS Feed. The MyDrive social media sites can be accessed by clicking the relevant social media icons situated below and on the right-hand side menu bar on any page throughout the MyDrive Media website.