MyDrive | Mercedes-AMG F1 Team -Two weeks after he qualified on pole in Brazil but fluffed his lines into the first corner, Bottas made no such mistake in Abu Dhabi, nailing the start and breaking clear of teammate Hamilton early on as the Silver Arrows were the gold standard at Yas Marina.
Lewis Hamilton: qualified 2nd, finished 2nd. Valtteri Bottas: qualified 1st, finished 1st.
There were some heart-in-mouth moments for the Finn – Hamilton made the most of a Bottas lock-up into the first chicane to climb all over the back of his car for a corner or two on lap 49 – but Bottas showed the pace he had in reserve by pushing his lead back to 2.3 seconds on the next tour, and cruised to his third race win of the season.
Hamilton kept up his curious record of never having won a race for the remainder of the season after securing each of his four world titles, but a fourth 1-2 for the season for the team was the perfect way to wrap up another campaign of setting a new benchmark for the others to follow.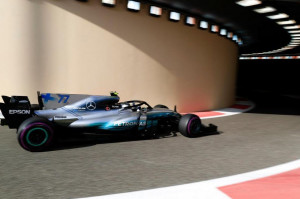 Hamilton may not be a fan of the circuit layout – "it's impossible to pass here," was his immediate reaction afterwards – but boring can be beautiful when a maximum bounty of points is scored.
Feedback and Links
Feedback or questions on this article, please use the comment field, or click for contact details.
For details on Formula 1, click > www.formula1.com
Connect with MyDrive
The MyDrive social media network now includes, Facebook, Twitter, Instagram, YouTube, Google+, LinkedIn and RSS Feed. The MyDrive social media sites can be accessed by clicking the relevant social media icons situated below and on the right-hand side menu bar on any page throughout the MyDrive Media website.