MyDrive | Mercedes-AMG F1 Team – There was one Mercedes driver who had a standout performance in Brazil, and it wasn't the one who started on pole and finished in second place.
Bottas had a golden opportunity to use the fastest car in the field to claim a much-needed first win since Austria back in round nine; since, he's been roundly thrashed by Hamilton in the sister Silver Arrow as the Briton careered towards a fourth world title.
Lewis Hamilton: qualified 20th, finished 4th. Valtteri Bottas: qualified 1st, finished 2nd.
With the Finn on pole and Hamilton starting from the pit lane after crashing out of qualifying, Brazil was there for the taking – instead, it was Bottas who was taken, the Finn elbowed into second place at the first corner by Vettel and never really staking a claim for the lead later on, despite Mercedes getting aggressive with its pit-stop strategy and bringing him in for new tyres on lap 27 to put the frighteners up Ferrari.
It didn't work, and he finished 2.7 seconds from the win – and just 2.7secs ahead of Hamilton in fourth after the Briton narrowly missed out on becoming the third driver ever to start from the pits and end up on the podium. Hamilton came to Brazil vowing not to back off after winning the title last time out in Brazil, and showed how hard he was prepared to push when he overdid it in qualifying, burying his car in the Turn 6 fence and causing a red flag.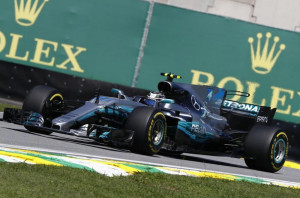 An early safety car that bunched up the field helped his cause, but Hamilton was inside the top 10 after nine laps and looked set to catch Raikkonen for third, but a lock-up at the first corner inside the last five laps brought his stirring charge to an end.
While a pole, a podium and Hamilton being voted Driver of the Day were good, what wasn't was the news some Mercedes staffers had been robbed at gunpoint leaving the circuit on Friday night after practice, one of a number of similar incidents over the weekend that saw an increased security presence at surely the most dangerous location F1 continues to insist on visiting.
Feedback and Links
Feedback or questions on this article, please use the comment field, or click for contact details.
For details on Formula 1, click > www.formula1.com
Connect with MyDrive
The MyDrive social media network now includes, Facebook, Twitter, Instagram, YouTube, Google+, LinkedIn and RSS Feed. The MyDrive social media sites can be accessed by clicking the relevant social media icons situated below and on the right-hand side menu bar on any page throughout the MyDrive Media website.