MyDrive | Written and Presented by Ash Davies – If you look to the far left at around 1:35 of this piece you'll see a man sitting down and texting. That gentleman is none other than the head of design at Aston Martin. We requested an interview but he seemed rather tired and despondent. He'd had a very busy week.
What a privilege it was to gain access to this car. It's the only customer spec V12 Vantage in the world, touring the prime markets with its designer Marek Reichman. The previous evening, Marek shared stories of the car's design, from the battle between the Zagato and Aston design teams to come up with the top design, to the meanings and intentions behind even the smallest details.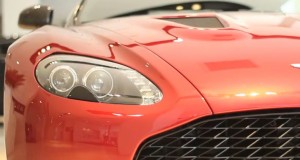 There's not too much to say about this one. It was quick and simple to produce, unscripted and was completed in under 24 hours. Personally though, I feel its one of our best pieces to date.
We've been in touch with our friends at Aston about the new Vanquish too. They're expecting cars in September, and we'll once again have up front access. This time though our access will be a little more 'hands on'. Can't wait! | Aston Martin V12 Zagato
You can contact Ash directly via email or through Twitter.
Get in touch with MyDrive via social media!
Stay in touch with MyDrive via our Twitter, Facebook You Tube and RSS Feed social media network.
We've now added Google + and Instagram to the MyDrive Social Network, add MyDrive to your profile.
Select the Social Network you would like to visit by clicking the below icon.